Panasonic Lumix DMC-LX10/LX15 Quick Change Adhesive by Lensmate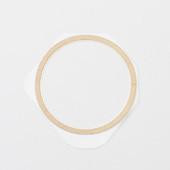 Quick-Change replacement 3M adhesive ring.
Replaces adhesive ring included in the Quick-Change adapter kit should you need to remove and reattach the receiver (Part 1).
How to Attach replacement Adhesive to Part 1:
Use rubbing alcohol to remove any residue from the old adhesive on the camera or Part 1.
Remove the cardboard roll out of a roll of toilet paper, and slit it down one side, this makes the tube adjustable and a guide to center the adhesive on Part 1.
Place the cardboard tube inside part 1, remove the paper backing from the adhesive ring, slide it over the toilet roll on to the flat side of Part 1, where it would connect to the camera. Press firmly.
After removing Part 1 with the adhesive ring from the cardboard roll take the time to press the adhesive down in a clock-wise major, to ensure that you have contact with all of the surface.
Then you are ready to install Part 1 on to the camera.
---
We Also Recommend
---